Emerald Jewelry is the May Birthstone and it is known to be one of the most popular jewelry in the world.  For many years different cultures around the world have used these dazzling green gemstones.  It was also known to be Cleopatras favorite gem.  This stone varies from a grassy green to a deep velvet green.  Emeralds are also found in India, South Africa, Afghanistan, Pakistan, Russia, and Zimbabwe.
Emeralds are also known to promote healing and enhance love and contentment.  Its beautiful green color, combined with durability and rarity, makes it one of the most expensive gemstones.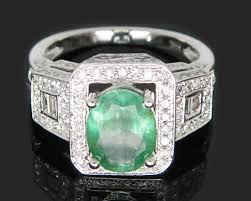 You can find emerald jewelry in different shapes, sizes, styles and settings.  Some settings are combined with other stones such as diamonds, sapphires and rubies.  One of the most popular cuts of  the emerald is the emerald cut stone.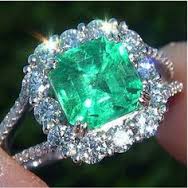 If the quality of the emerald is poor it can be brittle and they will have too many inclusions or cracks running through the gemstone.  If you see these low quality gemstones, do not purchase them.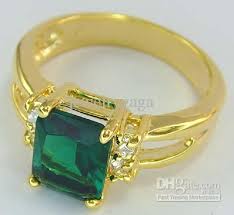 There is nothing more stunning than a deep green gemstone placed in a yellow gold setting. The two colors really look beautiful together. A lot of people prefer platinum, white gold, or silver, but It depends on your personal style. If you want to look flashy, stick with yellow gold. If you want to look cool, stick with a white or silver metal.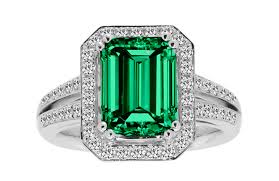 Emerald rings are available for women and men both. Men's rings usually feature multiple stones.  The  women's rings are usually one huge stone with an emerald, brilliant round, or oval cut, surrounded by tiny diamonds.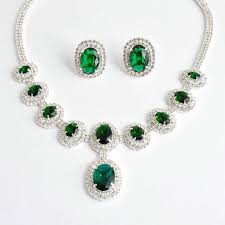 Emerald Necklace and Earrings
You can find the emerald necklaces in a variety of different designs usually ranging from a solitare gemstone on a chan to a design featuring multiple stones.  Emeralds are also available as fine jewelry and fashion jewelry.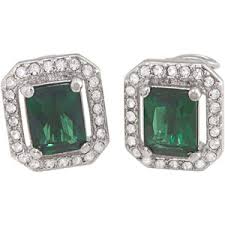 No emerald jewelry set is complete without earrings.  From studs to hoops, chandeliers to drops, there is a dazzling array of earrings for every style and budget. These days, the most popular earrings feature emeralds and diamonds both.