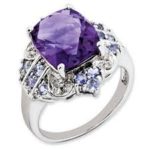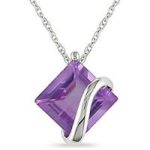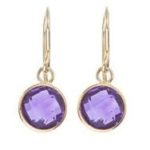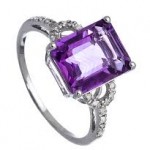 Amethyst

  comes in the colors of Purple, Violet, Pale and Red Violet.  Amethyst is considered to be the most precious stone in the quartz group.  
Besides the dark purple color that amethyst has, it can also come in other colors which include a deep purple, lavender and mauve color and it can also come in a light liliac color.
You can clean Amethyst by using a mild soap.  The color of the Amethyst Gem is considered to be the major deciding factor in the value of Amethyst.
The deeper the shade or color of the stone is the more the value and the higher the quality. You can also find amethyst in different sizes and shapes.  
Because there are many sizes and shapes, you have the opportunity to select the type of setting you would like to have for your gemstone.  
No matter what type of gemstone you choose, each gemstone has its own meaning and history behind it. It really depends on what our particular style is when it comes to finding the perfect gemstone that you like.